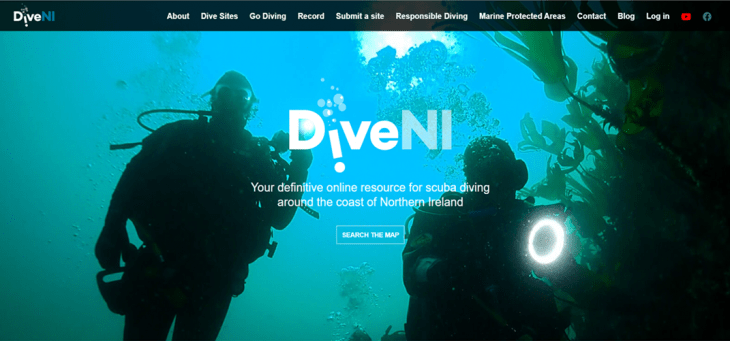 Dive NI is at the Dive Ireland EXPO
What is Dive NI?
The Dive NI website, launched in June 2020, is the definitive guide for exploring Northern Ireland's rich natural and historical marine heritage underwater.
The website provides a map of all dive sites around the coast of Northern Ireland and a specific page for each displaying information and imagery.
Who is it for?
Dive NI is built by the local diving community, for the local diving community and visiting divers.
Who is behind it?
Dive NI is maintained by the Centre for Environmental Data and Recording (National Museums Northern Ireland).
Funding for the production of this website was provided by the Department of Agriculture, Environment and Rural Affairs (DAERA) Environment Fund 2019-22.
Information, photography and videography for specific dive sites on the website is provided by local dive clubs, dive centres, professional dive teams, Seasearch NI divers and visiting divers.
How is dive site information gathered?
Dive site descriptions are provided by local dive clubs, dive centres, professional dive teams, Seasearch NI divers and visiting divers either directly or via the 'comments', 'submit more information', 'submit a new site' or 'flag incorrect information' facilities on the website.
This information is collated and shared on the website and is regularly updated with new information.
For more detail and definitions for the specific information fields on each dive site page see Description of Dive Site Information Fields on our website.
How is dive site imagery gathered?
Dive site images can be submitted to Dive NI via the 'Submit photos' facility. Approved photos are uploaded to specific dive site pages on the website.
Videos for specific dive sites can also be submitted via YouTube. Just tag your video with the appropriate dive site name and we will add it to the corresponding playlist on the Dive NI Channel.
How do I get involved?
Dive NI provides facilities for users to provide comments, ratings and images for specific dive sites, as well as submitting new dive sites to the website.
Users can set up a personal account to store dive sites of interest and share these with their dive buddies.
For help with using the website, check out our 'How to' videos on the Dive NI channel on YouTube.
As well as dive site pages, the website will also include pages for local dive clubs and centres, guidelines for responsible diving and information for recording marine life. We look forward to the Dive Ireland show as an opportunity to meet potential users of, and contributors to, the new Dive NI website.
Please come and see us at Stand 26 to get a behind the scenes look at the new website, give us your suggestions and find out how you can contribute to it directly.
https://www.facebook.com/dive.ni.37