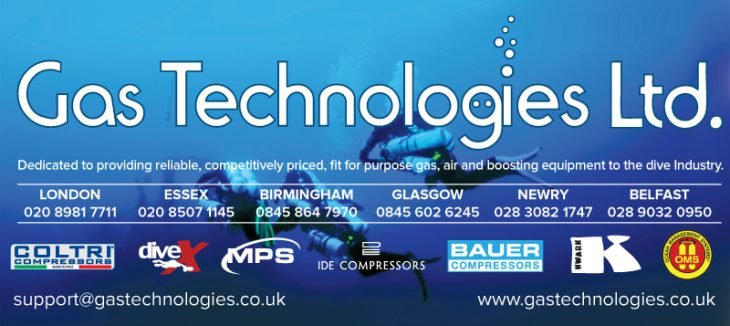 Gas Technologies to light up Dive Ireland EXPO!
Gas Technologies are delighted to be back again at the premier Irish diving event in Limerick at the The Raddison Hotel on 05th & 6th March.
Whether it be Open Circuit Recreational or Closed Circuit, Mixed Gas Technical CCR, the one thing that is paramount to all divers is access to affordable, clean, breathable gas / air.
For over 25 years, Gas Technologies www.gastechnologies.co.uk have been supplying market-leading breathing air equipment from IDE, Coltri and Bauer to our customers across throughout Ireland, the UK and right acorss the globe.
Should the requirement be for a club or for an individual, if you need some information on what's available out there today, please drop by when you are at the Dive Show, as we would love to have a chat!
In 1995, Gas Technologies were fortunate to obtain dealership rights for the full range of Coltrisub Compressors and in 2001, we were granted dealership to the full range of Bauer compressors. We are very proud to be the only dealer in the UK and Ireland who can offer dealership facilites for two of the top world leaders in breathing air production. This in effect leaves us in a unique situation where we can offer impartial advise on what compressor suits you in both in terms of budget and gas filling requiements. https://gastechnologies.co.uk/
In 2016, we commenced sole distribution for the UK and Ireland for the full range of MPS Gas Booster Pumps. https://www.mpstechnology.it/en
MPS are a world leader in the production of high pressure gas production and we are proud to be associated with a company that is passionate about being at the pinnacle in their field. In 2018, we teamed up with Dave Gration at Rebreather Pro Training http://www.rebreatherpro-training.com and since that time, it has been prooven beyond reasonable doubt that MPS is probably the top of the pile when it comes to trouble free Gas Boosters on the market today.
2017, seen us obtain the dealership for the Prodive range of diving lights. These 100m depth rated lights, which we have personally taken and tried to 150m, as well as The Britannic, sister ship of Titanic. https://vimeo.com/243359797
We find the Prodive Range to be some fo the very best, fit for purpose dive / video lights currently on the market. Like all of the equipment that we sell, they are more competitive priced than what's out on the market today, with a two year warranty, which no other manufacturer is giving. Needless to say we are having amazing results and looking forward to showing some of the range at the Irish Dive Show. https://divepro.com/product-category/products/diving-torches/
Since the late 80's we have been involved with Technical diving. With dives becoming deeper and dive times becoming longer, one of the major factors involved in the onset of decompression sickness is lack of warmth. With dives lasting anywhere up to 5 hours, we searched for an under suit that would keep you warm enough to endure the cold harsh conditions. Having tried dozens of under suits over a 30 years period, in 2019 we found, what we consider to be the best product at retaining body heat. Being so impressed with the Product, we undertook the distributorship and are now an Ireland & UK Dealer for the full range of "Kwark" thermal under suits, which we will be displaying at Dive Ireland. https://kwark.pl/
So, if it's time your Club compressor was renewed or would you love to have total independence by having your very own dive compressor or if you feel that for too long you have been freezing on a dive and wished you had a decent light, maybe it's time you had a chat with us at Gas Technologies. Looking forward to showing you some of the Product Range from Bauer, Coltri IDE, MPS, Prodive, Kwark & OMS.
Peter Mc Camley (Operations Manager)
Gas Technologies Ltd (A Demenex Group Company)
www.gastechnologies.co.uk support@gastechnologies.co.uk
www.demenexplant.co.uk info@demenexplant.co.uk