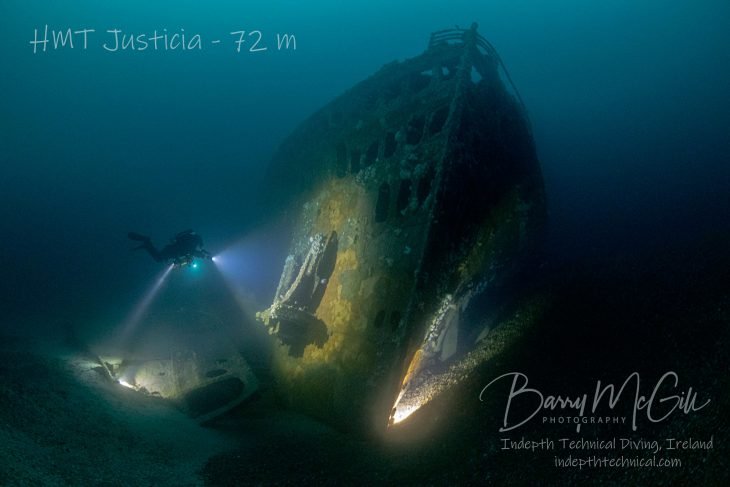 Indepth Technical Diving at the Dive Show
Indepth technical diving is Ireland's premier technical diving training school, with a focus on quality and real-world diving experiences in Irish waters. Barry McGill setup Indepth Technical Diving in 2010 to help bring top level technical diving instruction to Ireland. Through Indepth Technical Diving Barry, teaches a full range of technical diving courses from Nitrox to Trimix using both open circuit equipment and close circuit rebreathers. Indepth Technical Diving also offers instructor level technical diving training as well as other related courses such as gas blending.
If you are interested in rebreathers, Indepth Technical Diving is able to provide factory approved training for both JJ-CCR and AP Diving rebreathers from entry level to 100 m trimix. Barry has been diving rebreathers since 2004 and is passionate about equipping his CCR students with the skills and knowledge to allow them to achieve their diving goals.

Exploring shipwrecks is central to Indepth Technical's core, we offer multiple wreck diving trips each year on both the North and South coasts of Ireland in depths ranging from 40m to 100 m +. If you want to plan your next diving adventure on any Irish wreck, Indepth Technical Diving can offer a full range of support for both individuals and group enquires.
Indepth Technical Diving offers a full range of technical diving services such as training, technical diving expeditions, gas filling, equipment sales. We can supply equipment from some of the top suppliers in technical diving such as SANTI, Divesoft, Light Monkey, Big Blue Dive Lights, JJ-CCR and AP Diving as well as many other quality manufactures.
Website: https://indepthtechnical.ie/
FB: facebook.com/indepthtechnical
Mobile: 087 9472237
Email: info@indepthtechnical.com