Irish Shipwreck Exploration – A diver's guide to shipwreck exploration by Barry McGill
The waters surrounding the coast of Ireland were the scene of some of the most significant maritime losses during both World Wars. The concentration of convoys coming from North America to the United Kingdom were a primary target for the German Navy, which has left an indelible mark on the underwater landscape around the Irish coastline. Many of these shipwrecks have become bucket-list dives many divers throughout the world, especially those interested in underwater photography / videography of shipwrecks. But the fact remains, we still have only discovered and dived a fraction of these shipwrecks to date.
The presentation will take a practical view at what is involved in exploring shipwrecks which either have never been dived before or which have not been fully explored previously. The presentation will aim to detail the various challenges involved in shipwreck exploration and the techniques used to capture these wrecks using both photography and videography techniques. The presentation will contain many underwater images and video, including the use of 3D photogrammetry and will give an insight into the rewards and challenges of photographing these iconic wrecks.
Barry McGill's Bio
Barry McGill is a based deep wreck photographer and CCR instructor trainer with Indepth Technical. His main area of focus is exploration of deep-water shipwrecks around the Irish coastline, and he has been fortunate enough to discover and explore many significant previously undiscovered shipwrecks.
Exploring iconic shipwrecks such as the R.M.S. Justicia, H.M.S. Audacious and R.M.S. Lusitania has left a significant impression on Barry, which helped develop his desire to discover and explore shipwrecks. Barry has organised and led many deep wreck expeditions exploring the deep wrecks off the North coast of Ireland, which included the S.S. Empress of Britain in 162m and S.S. Transylvania in 130m. Barry has also been part the teams that first discovered and explored the wrecks of HMS Curacoa in 125m, White Star Liner Carinthia in 116m, HMS Hurst Castle in 85m and World War 1 German U-boats UB 124 and U45 in 65 m.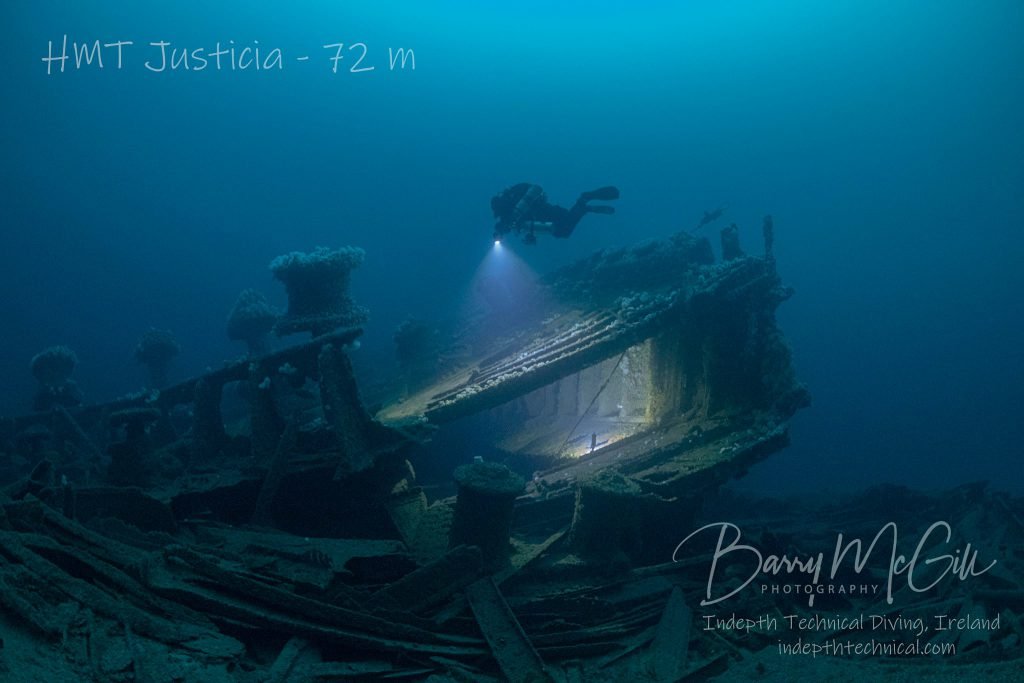 Barry aims to share his passion for shipwreck exploration by capturing and sharing his images of many previously unphotographed shipwrecks including R.M.S. Amazon, H.M.S. Viknor and H.M.S. D6. Barry has been part of a number of television documentaries and his images have appeared in a number of books and other publications, including the New York Times.
Barry has also been part of many international shipwreck expeditions, most recently in September 2021 where he formed part of an international team of divers who undertook the first internal exploration of HMHS Britannic which lies in 120 m of water in the Kea Channel in Greece. This expedition was funded by the Explorers Club and aimed to document key internal elements of the ship which had never been accessed by divers previously.