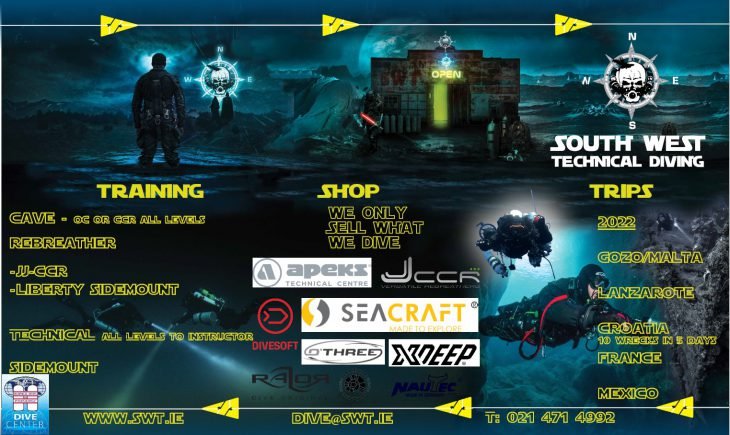 The Dark Side comes to Limerick 2022
Ireland's specialist and globally recognised technical centre, South West Technical Diving is looking forward to catching up with everyone in March 2022 on stand 24.
Come chat to us about training, trips and equipment.
For training we are a TDI Dive Centre and offer Cave Training (Open or closed circuit) to full and stage cave, Rebreather Training to full trimix on the JJ-CCR and Liberty Sidemount CCR and all levels of tech training up to instructor level.
For Trips, not just local Irish diving, but also Malta/Gozo, Lanzarote, Croatia, Mexico, Truk Lagoon and more.
For Kit, sales, rental and service and we are proud to be
Ireland's only Apeks Technical Centre for all Apeks and Aqualung Sales, Service and rental
the only Irish based factory accredited Instructor, Dealer and service centre for JJ-CCR
the Irish dealer and instructor for all Divesoft products including the Liberty Sidemount CCR where we literally wrote the course on bailout CCR's
Irelands Pro dealer for Seacraft DPV's
OThree authorised reseller
Dealer for top quality kit like XDEEP, KUBI, ECS, Nautec and more
We only sell what we dive, and we dive it to 100m, in caves and for many dives before we offer kit for sale or rent. We service it like it was our own.
Check out our new site and e-shop at www.swt.ie. Call us on 021-471-4992
This is the way!
#tdidivecentre #andifacility #Apekstechnicalcentre #caveinstructor #jjccrfactoryservicecentre #JJCCR #ANDI #nolimitsexploration #cavediving #Apeks #southwestech #nautilus #othree90ninety #divemorepostless #xdeep #TDI #technicaldiving #scaleolights #rebreathers #seacraft #kubidrygloves #sidemountessentialsinstructor #sidemountccr #libertyccr #jjccr_official #wedontsellwhatwedontdive